Your Guide to All Things Self Adhesive
Oh my goodness – can you believe we're already on our third module of our Wholesale Education Series!?
For those of you who missed last week, you can read up on our second module right here. It's so great to see how many of you are already thinking about creating your own custom colors and branding colors!
Now that we're on our third round of our Wholesale Series, we're going to get into the nitty gritty of design and talk about Self Adhesive Wax Seals.
Self Adhesive Wax Seals have been somewhat of a controversial topic in the wax seal world over the last few years, as they can vary so much from company to company – that being said, we've been working with self adhesive wax seals (or peel and stick wax seals as you may have heard them called before) for the last 20 years.
This week we'll be talking about some of the self adhesive basics, as well as answering some of the more controversial questions on the subject. Our clients have saved so much time and money by making the switch from traditional DIY wax seal stamps to self adhesive wax seals, which is why we wanted to share some more details on how they work with you today!
Here's what we're going to cover:
Introduction + Common Wax Seal Myths
Design Options
Mailing
Introduction + Some Common Wax Seal Myths
Self Adhesive Wax Seals are real wax seals that have been individually pressed into authentic sealing wax in your choice of style and finished with an adhesive backing.
Photo by Plume Calligraphy
Individually pressed into real sealing wax
All of our self adhesive wax seals are made with real sealing wax and are individually made by our Wax Seal Artisans. Finished with a specialty adhesive backing, our wax seals are made one at a time and finished by hand in your choice of style and design.
Common Myth: "Self adhesive wax seals are made of plastic, not real wax."
Truth: Our self adhesive wax seals are individually pressed into real sealing wax that we make in-house (the very same sealing wax you would get from us to use with your wax seal stamper)!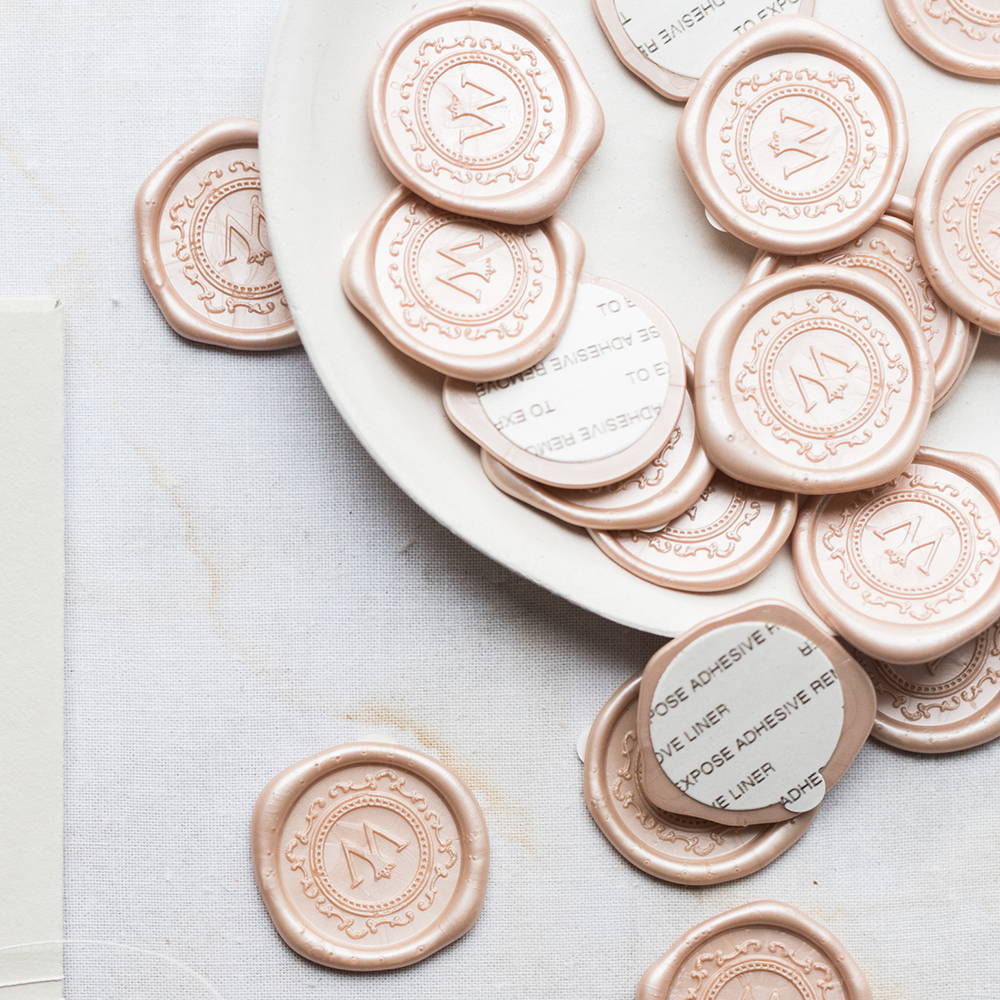 Photo by Mason Neufeld Photography
Created with your choice of edge style + design
We can create your seals with your choice of:
Modern Edge: A clean and consistent look.
Organic Edge: A slightly irregular look.
Artisan Edge: A rustic and completely unique look.
Common Myth: "Those kinds of seals are mass produced and all look exactly the same."
Truth: All of our self adhesive wax seals are individually pressed so that we can create your seals to be as uniform or rustic in appearance as you like.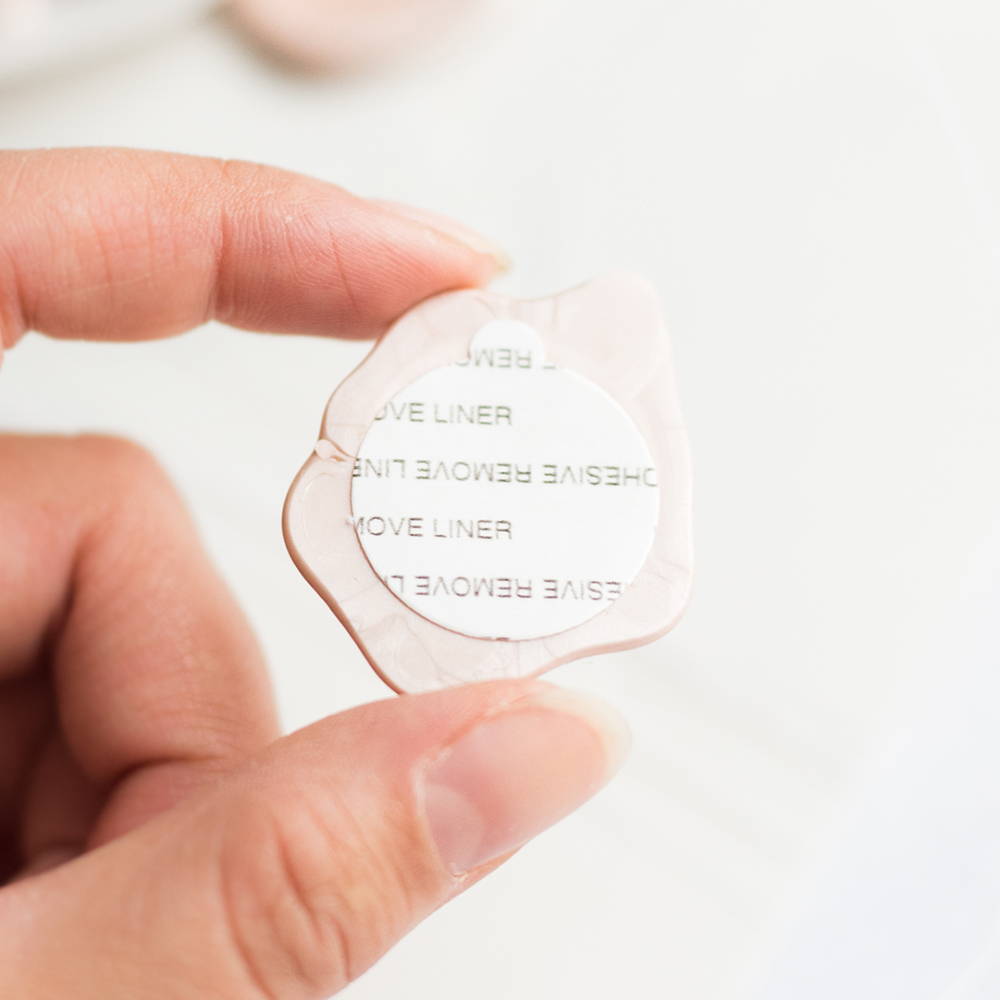 Photo by Mason Neufeld Photography
Finished with an adhesive backing for easy use
Each of our wax seals are finished with an adhesive backing based on your project and surface. With both Resealable and Professional Grade Wax Seals – our adhesive options have been carefully tested to ensure quality of hold and easy use.
Common Myth: "Wax seal stickers can only be used on paper."
Truth: We have developed three different adhesive types to ensure you find the correct level of "stickiness" for your project on all surfaces from glass and plastic, to cardboard and paper.
Customizing your Wax Seals for the Perfect Look
For all of you who haven't worked with self adhesive wax seals before…there is likely one question that's floating in your mind right now:
"Will they really look as good as hand-stamped seals?!"
This is something we get asked a lot, and it makes total sense! When your client decides that they want to add wax seals to their wedding invitations, stationery, or branding – they probably have a certain picture in their minds of what that looks like right?!
Making sure that we developed a way to re-create that picture was so important to us.
How did we do this you ask?!
We studied.
Yup, that's right! We went out to the marketplace, asked our stationery gurus, and talked to our clients to find the most popular styles of wax seals, then put our own signature spin on them to create three distinct styles of wax seals.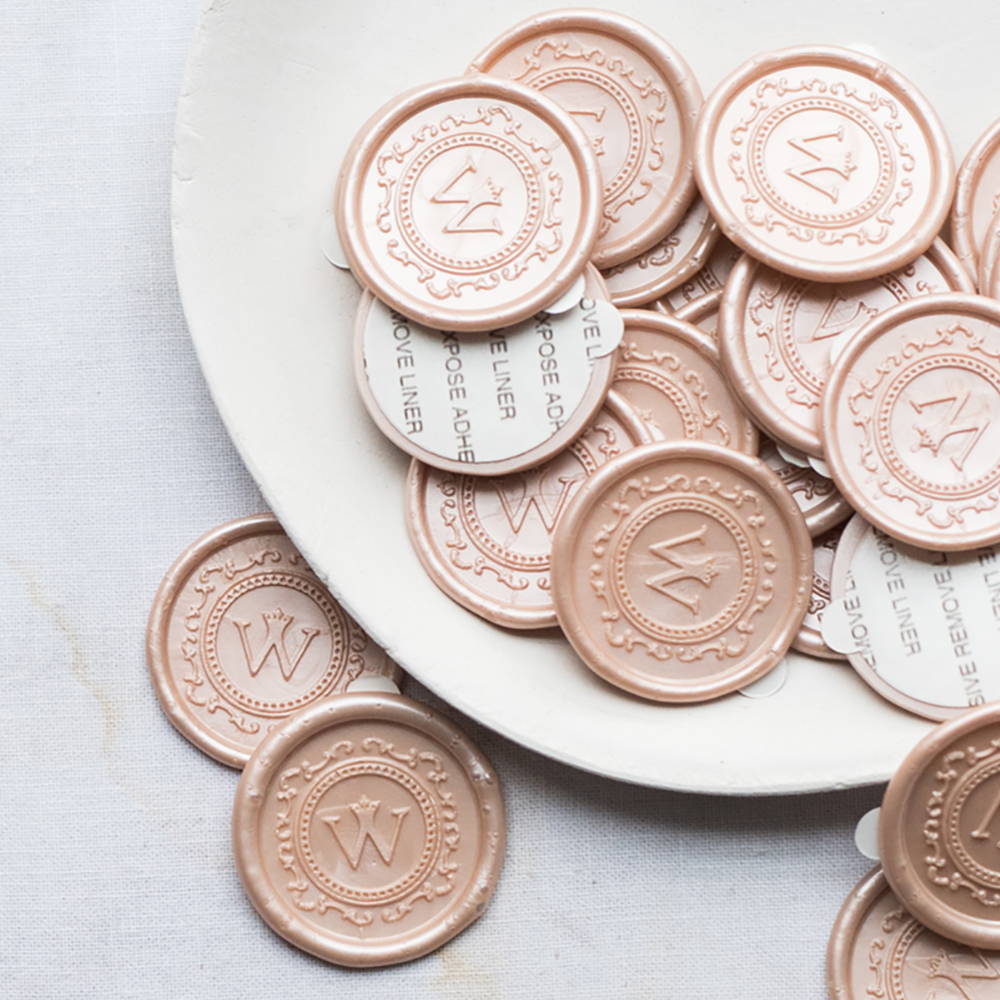 Modern Edge
Our Modern Edge Wax Seals are created with a clean and consistent wax seal edge (or "bleed") for a uniform look from seal to seal.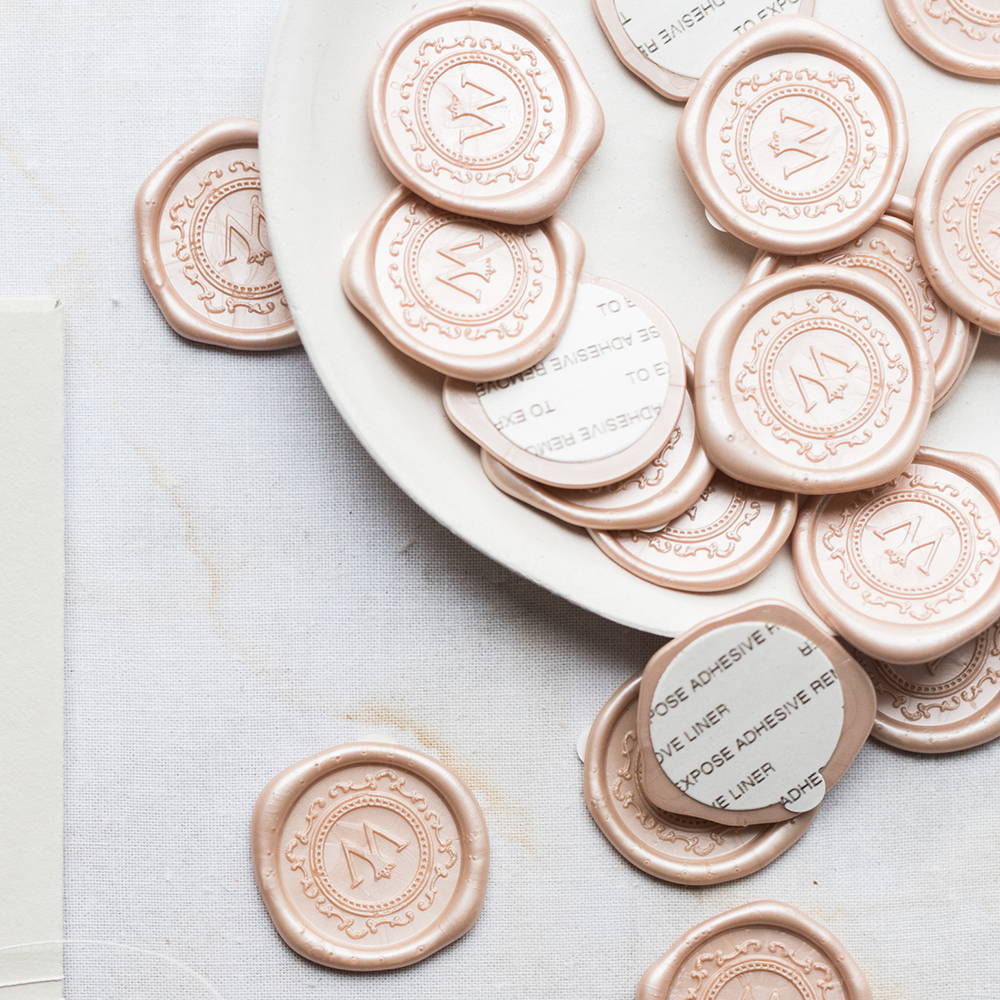 Organic Edge
Our Organic Edge Wax Seals are created with a slightly irregular wax seal edge (or "bleed") for an organic look from seal to seal.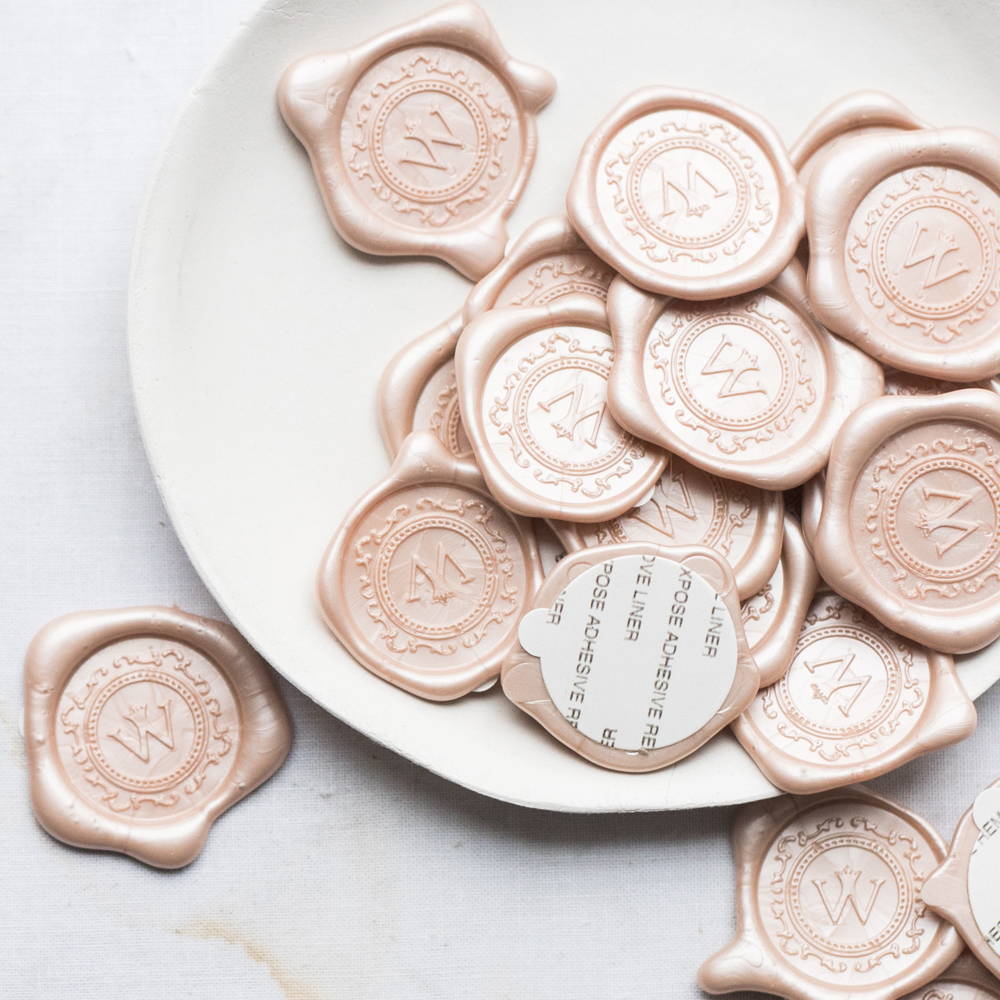 NEW: Artisan Edge
Our new Artisan Edge Wax Seals are created with a rustic and varied wax seal edge (or "bleed") for a that completely unique, "hand-poured" look from seal to seal.
---
As important as it is to create the right look for your wax seals, finding the right adhesive for your surface is just as important.
Based on the surface, behavior, and application for your seals, we offer three different adhesive options: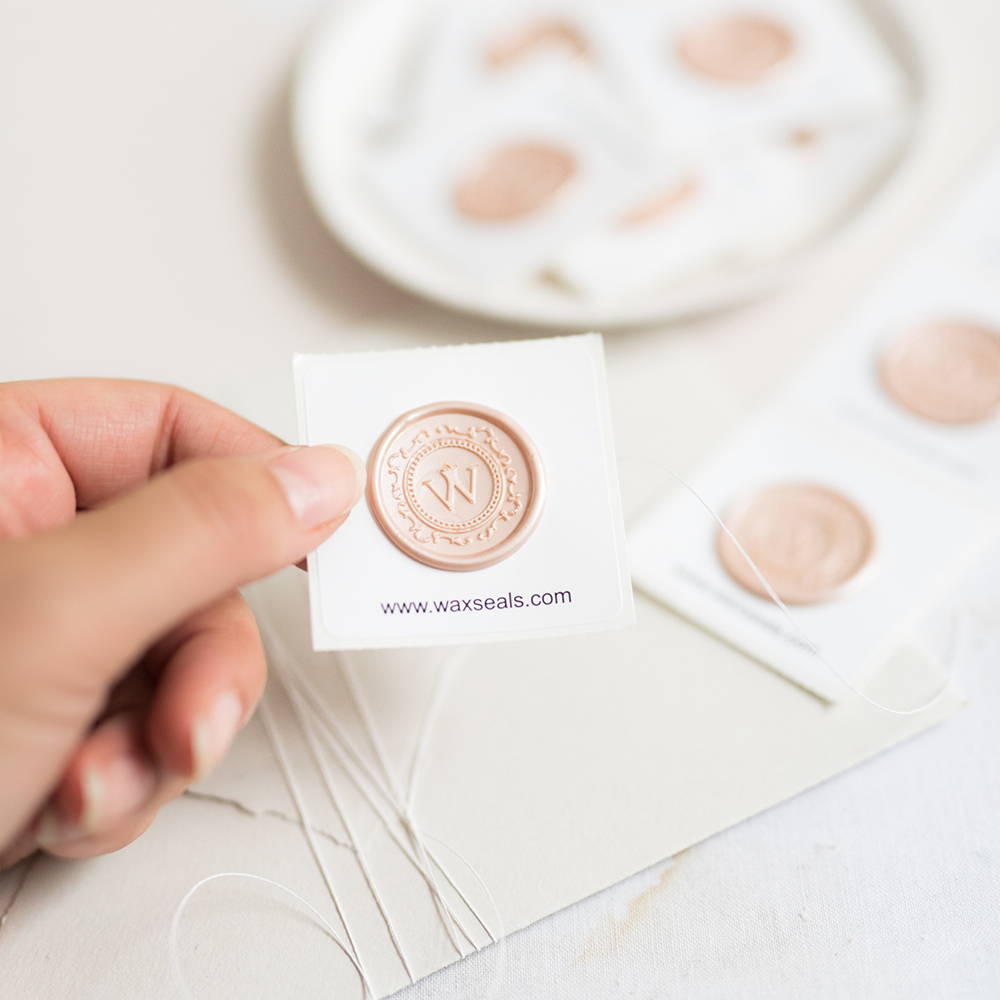 Craft
A paper adhesive disc ideal for single application on light, uncoated and untextured paper or light cardstock only.
This adhesive type is designed for light use only, and may tear the surface underneath the seal when removed.
Recommended Surfaces:
Light Paper
Light Cardstock
Untextured Paper
Untextured Cardstock
Uncoated Paper/Cardstock
Please Note: Craft Wax Seals are not included as part of our Wholesale Program, but are available for purchase directly through our retail shop, www.artisaire.com.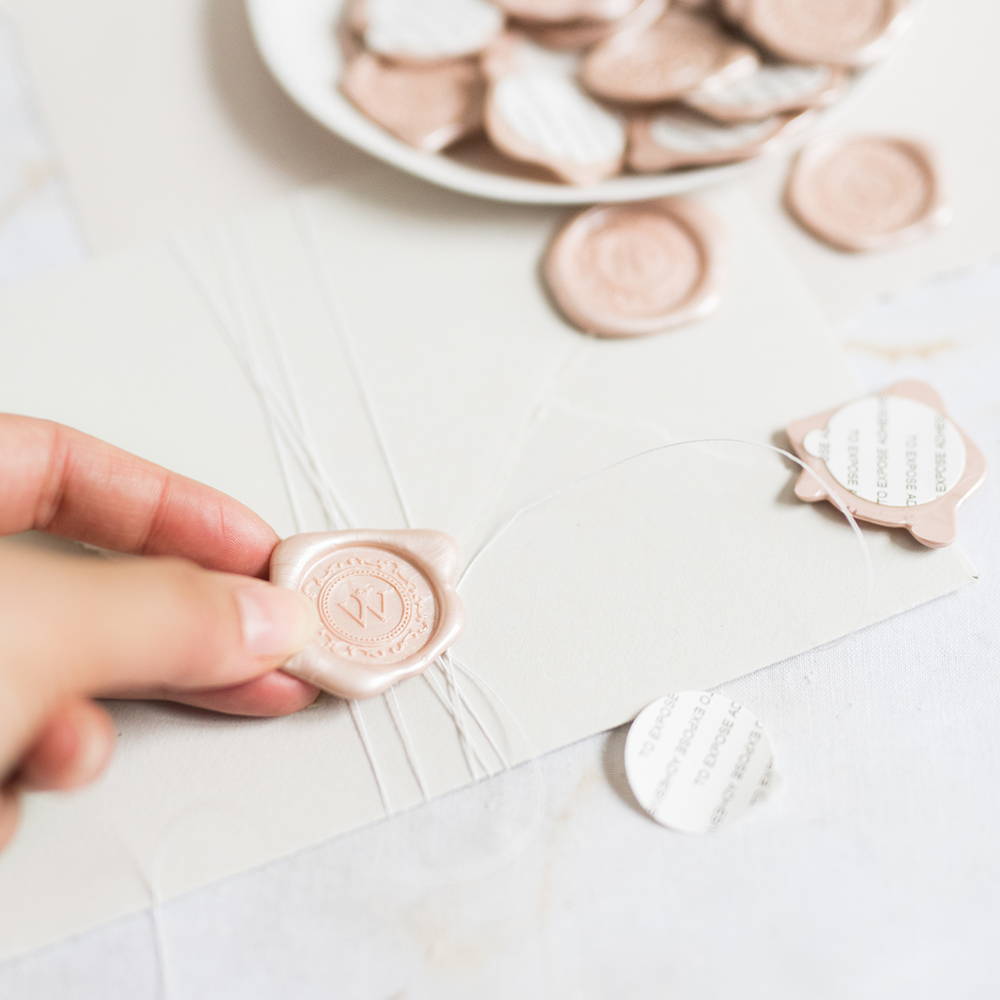 Professional Grade
Our strongest adhesive has been carefully designs for use on a wide range of surfaces.
Our most popular adhesive, we highly recommend selecting this option for any application where seals will be mailed or used on any type of packaging or curved surface.
Recommended Surfaces:
Thick, Textured Paper/Cardstock
Coated or Glossy Paper/Cardstock
Specialty Surfaces (Ribbon, Twine, Wood)
Coated Surfaces (Plastic, Vellum)
Glass, Bottles, and Curved Surfaces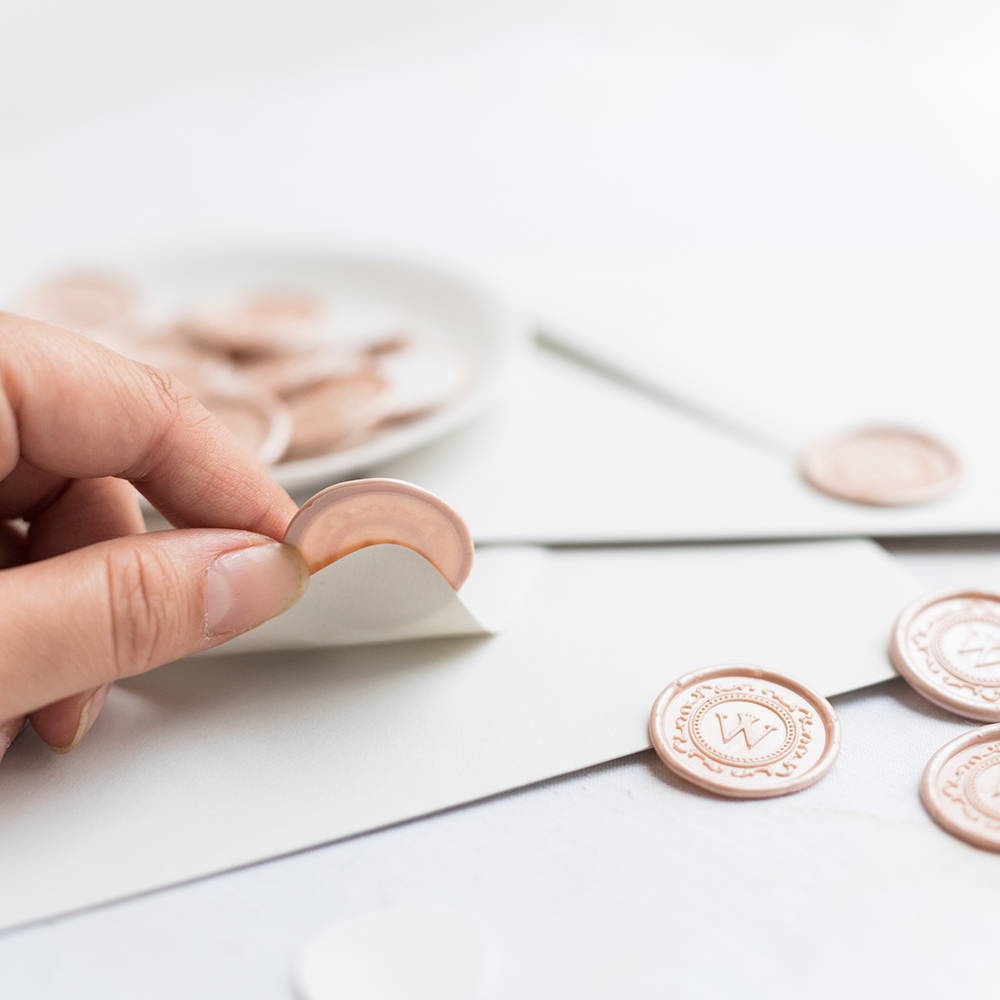 Resealable
Designed like a Post-It Note, this type of adhesive allows seals to be completely removed from stationery or packaging and reapplied without tearing 3-5 times.
We recommend our Resealable Wax Seals for any delicate surface or application.
Recommend Surfaces:
Mirrors
Escort Cards
Seating Charts
Laser Cut Stationery
Tissue Paper
Looking for our Clear Professional Grade Adhesive? Contact Us!
Tips and Tricks for Safe Mailing
You've spent the last several weeks (months) putting the final touches on your beautiful design – sourcing the last minute details, designing your wax seal, fine-tuning placement…. and now it's time to ship them out.
How do you send wax seals safely through the mail!?
One of the most common conundrums for many stationers and invitation designers is what the best practices are for safely mailing wax seals. So we've put together our Top 3 Tips on this particular subject: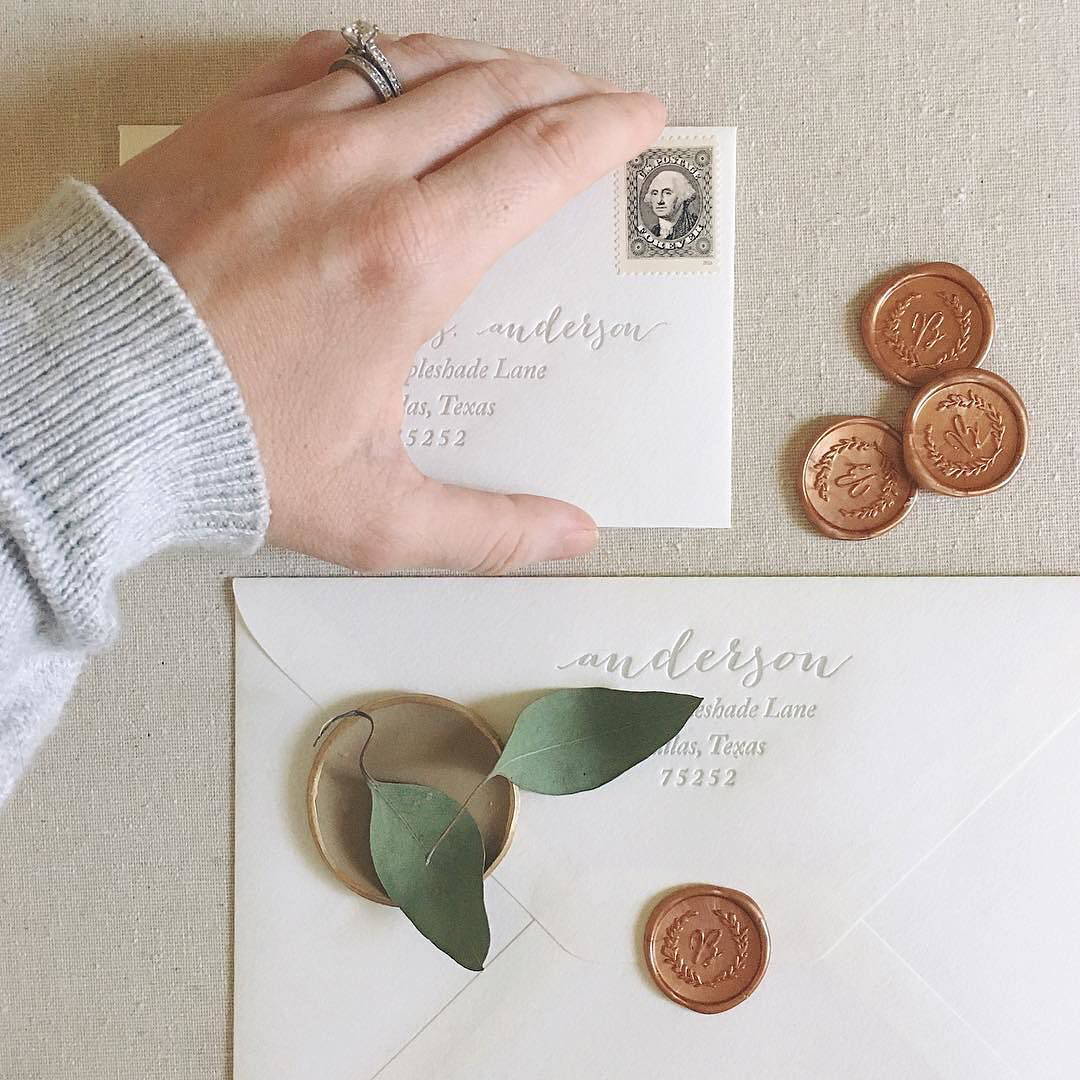 Photo by Victoria Austin Designs
1. Hand Cancel
Hand-Cancelling is a brilliant way of protecting your seals in the mail and preventing any tearing due to modern mail sorting machines.
Hand sorting your letters/stationery is a great service offered by most Post Offices (we recommend calling ahead to make sure), and is a great way to ensure your seals stay intact upon delivery.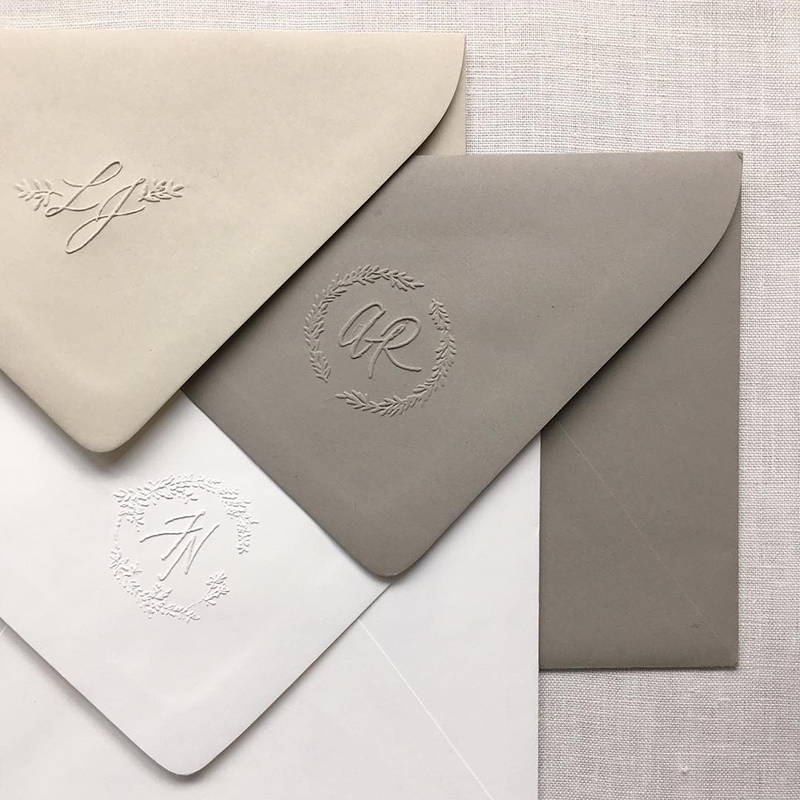 Photo by Paula Lee Calligraphy
2. Outer Envelope
Using an outer envelope is a perfect solution if you're working with delicate details such as ribbon, string, and twine with your wax seals!
We would highly recommend using an outer envelope to protect your seals if you would prefer to not hand-cancel your invitations, letters, or stationery. We also recommend this solution if you are using our Craft or Resealable Adhesive.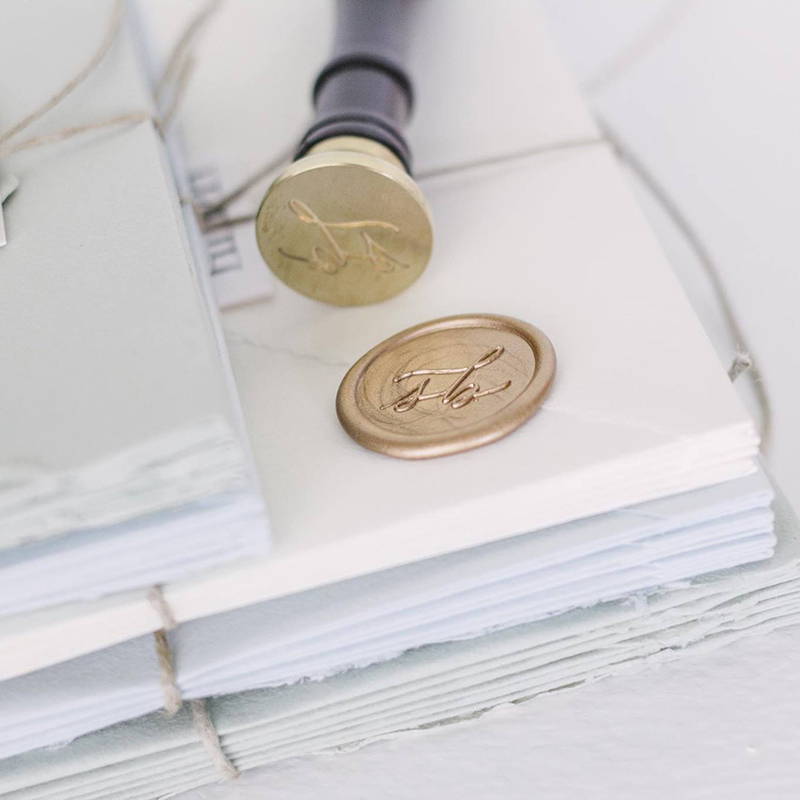 Photo by Sarah B Calligraphy
3. Stamp + Send
We wanted to put a third option in here for those of you who will be mailing your hand-stamped seals!
Hand-stamped wax seals typically fare quite well going through the mail as they are able to bond tightly to paper when stamped. We always recommend using one of the first two options if you want to be extra safe!
Are you ready to save time and money with a new way to wax seal?
We hope this module has been helpful in learning more about the benefits of working with Self Adhesive Wax Seals – and how they might be a great tool to add to your arsenal!
Please feel free to send us any questions that we may not have covered this week, and stay tuned for next week – because we're talking all about customizing your wax seals!
See you next week!
xoxo,
            The Wholesale Team
---