How to Choose the Best Sealing Wax for Your Project
Hooray Hooray!
We're so happy to have you join us for the second module of our Education Series!
In our last module we talked about all things artwork – formatting, designing for detail, and the process. If you happened to miss last week's episode – you can find it here.
Today we're talking about one of our FAVORITE topics: Color.
Seriously… you know those people who find a way to incorporate a story about their favorite pet into every conversation, regardless of the topic?
Well, we have a confession to make…. we are that person when it comes to color!
So let's dive in!
An Introduction to our HeoFlex® Technology
Now, we can't talk about color without first talking about sealing wax!
Somewhat of a "mystery material", we've been working with wax…. well for a long time (like 25 years), so we've seen every format, style, mixture, color, and type of wax out there.
During the early years of our business, we sourced our sealing wax from global manufacturers who developed sealing wax on-mass for the entire industry. As we began to analyze feedback on this product, we started hearing many of the same challenges from our clients: the wax was heating up too fast; it was changing color when heated; there was no color consistency from batch to batch; it was breaking and cracking which made mailing impossible; and would off-gas when heated creating an awful smell.  
Now, we know just how important it is for your designs to be created in line with your project vision, which is why we decided it was time to create our own sealing wax that would have the level of quality and consistency that we wanted for you and your clients.
So, nine years ago we launched our own signature sealing wax. After many years of testing and development, we now have 3 signature color collections with 64 sealing wax colors and custom color matching – all made in-house using our exclusive HeoFlex® Technology to bring you the color, consistency, and flexibility needed to best serve you.
What exactly is HeoFlex® Technology you ask?
HeoFlex® Technology is our exclusive philosophy, methodology and approach to sealing wax manufacturing. While we can't tell you the specifics (trade secret…sorry!), HeoFlex® Technology allows us to create sealing wax that is derived from its traditional roots, while also being flexible, durable, consistent in color and available in our exclusive palette of colors.
Because quality, consistency, and ethical manufacturing are so important to us, sourcing the raw materials used to make our sealing wax is a big part of our wax manufacturing philosophy and why we only use 100% North American sourced materials in our wax.
Ok great, but what does this mean for you and your business?
The main reason why we wanted to tell you about our sealing wax journey is to show you just how important you are to our product development process. Our goal is to create the best possible medium we can for you to display your works of art – your wax seal designs! So if you ever have questions about our wax or suggestions for how to make it even better, we want to know!
Ok… enough of the technical stuff – let's get to the main topic of conversation: How to Choose the Right Sealing Wax for your Project!
Choosing the Right Wax for Your Project
Three Questions to Ask Yourself Before Getting Started
Question 1: What Color Are You Looking For?
Limited Edition
Featuring our limited edition sealing wax colors, these elegant colors are made for a brief period with 100% real wax and resin to create beautiful and rich colors.
Client Favorites:
Silver Sage (Above)
Rosa
Navy Blue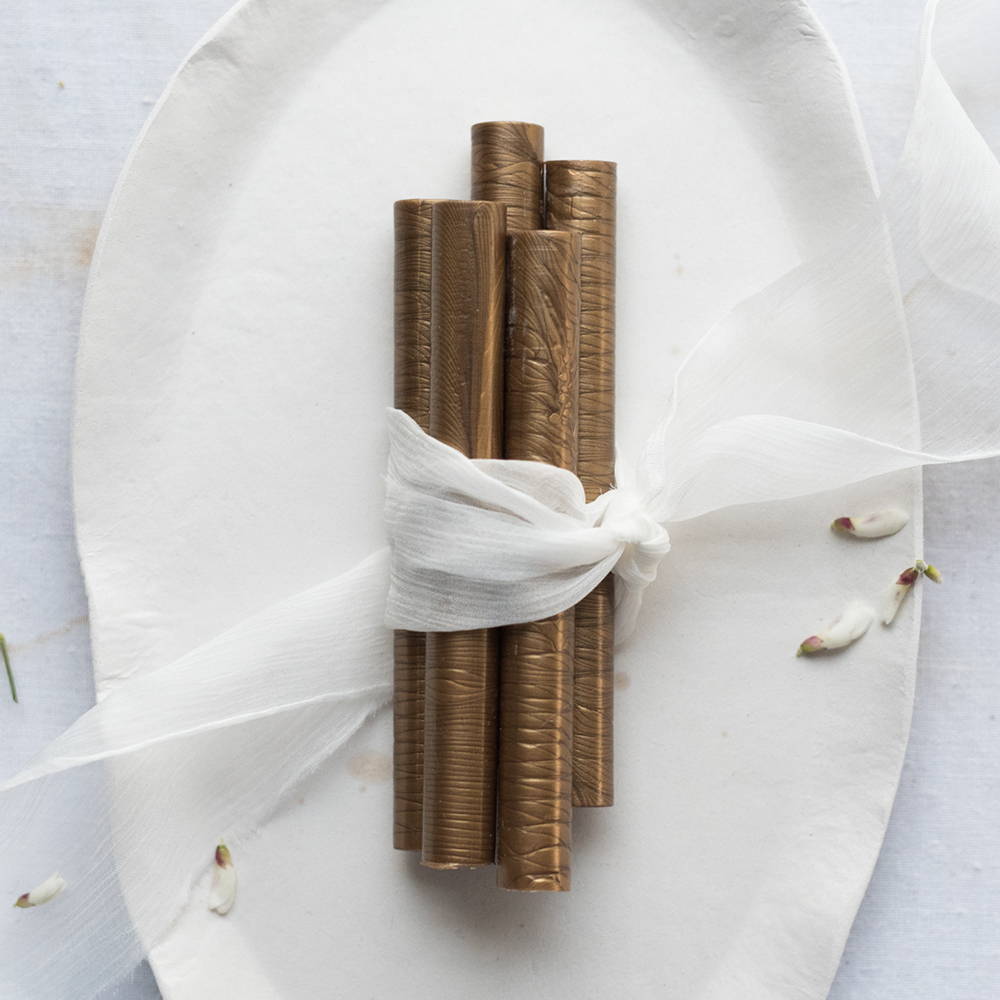 Vintage Collection
Featuring our favorite traditional wax colors, our Vintage Sealing Wax is made with our "Traditional Wax Formula" which has been carefully designed to hold fine detail and intricate artwork, with a rich and luxurious finish.                                                                                        
Client Favorites:
Antique Gold (Above)
Traditional Red
Traditional Black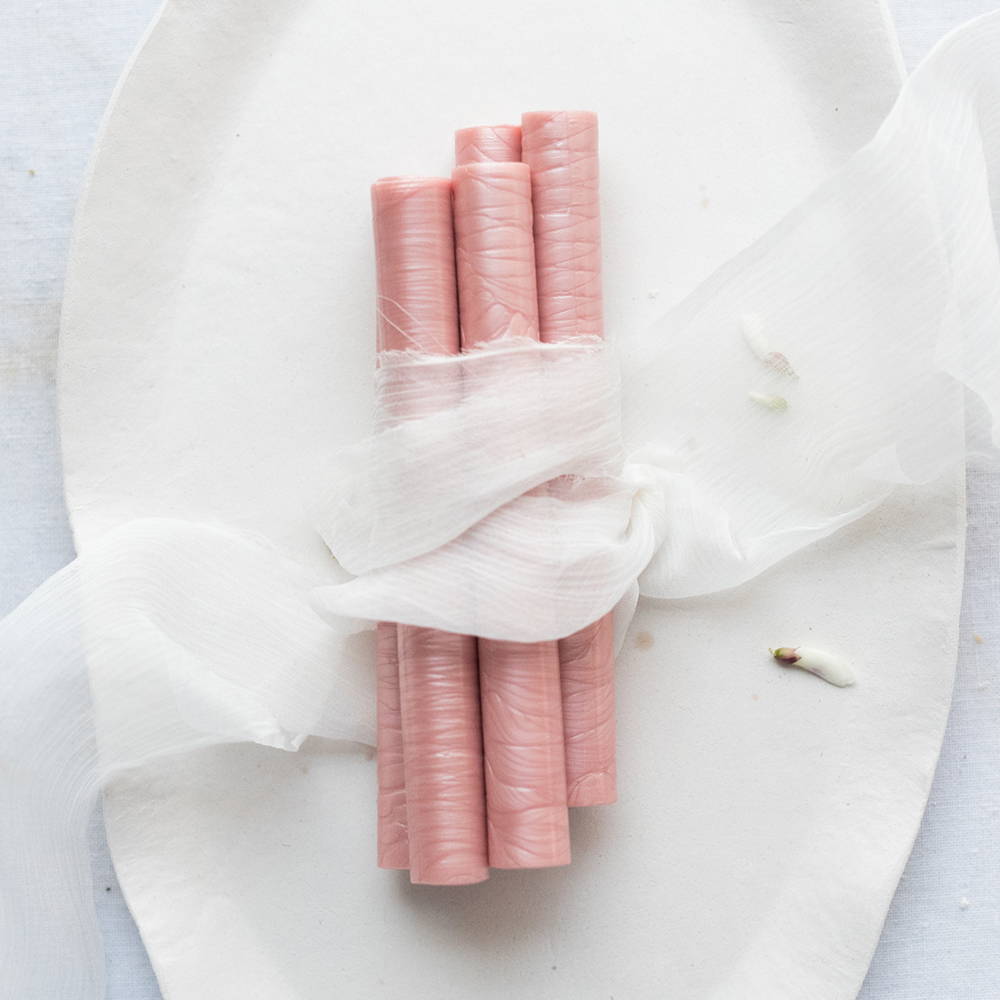 Modern Collection
Beautifully modern and inspired by current trends in the wedding and stationery industries, these colors are made with our "Traditional Wax Formula", which contains our highest amount of real wax for a silky color and rich finish.                  
Client Favorites:
Blush (Above)
Rose Gold
Champagne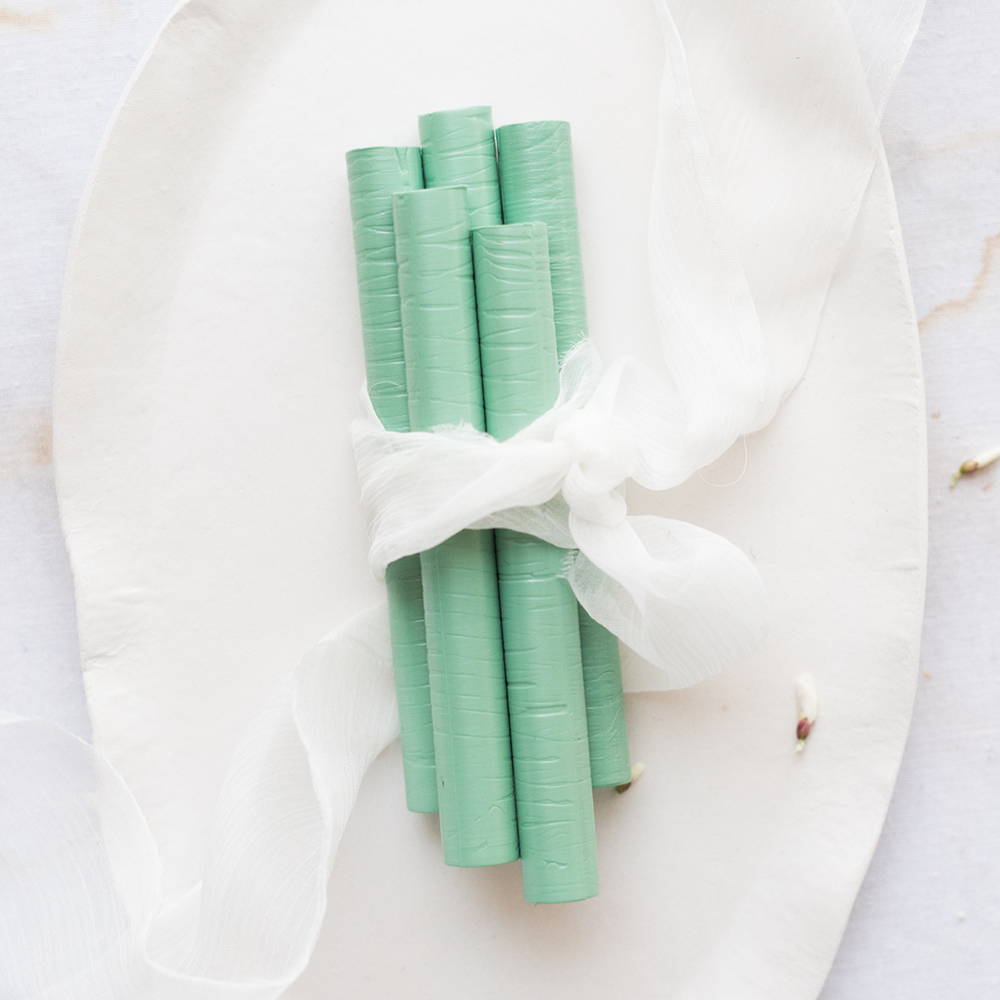 Designer Collection
Inspired by our top 10 favorite designer colors used by our clients, each Designer Color is made with our "Traditional Wax Formula" and HeoFlex® Technology. Our Designer Collection is available in 4 unique finishes: Classic, Pearl, Satin, and Pastel.
Client Favorites:
Green 7727 Satin (Above)
Green 7727 Pastel
Red 220 Satin
---
Question 2: How Are You Using Your Wax Seal?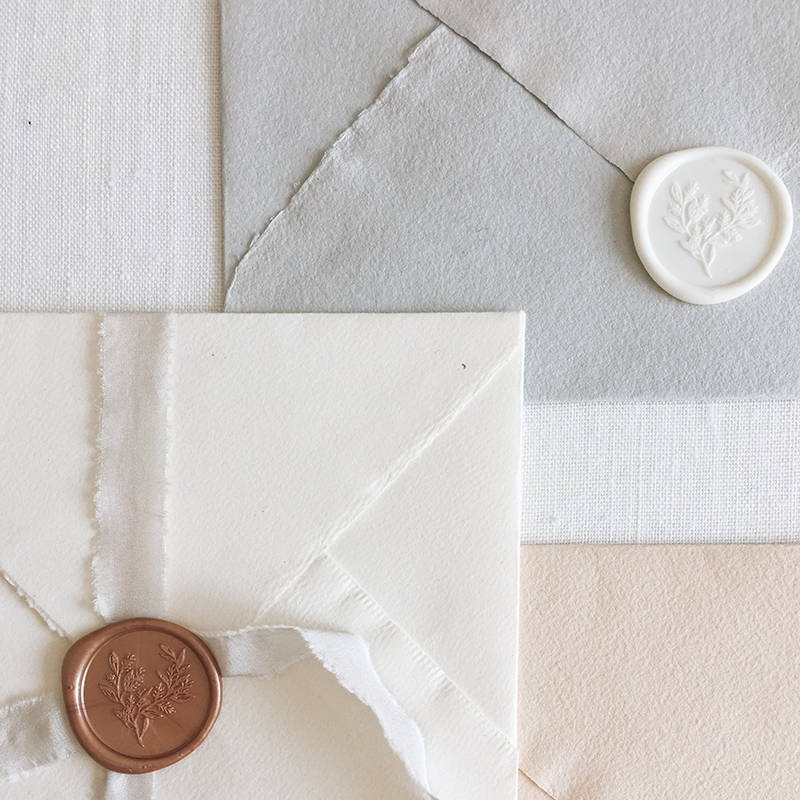 Photo and Design by Paula Lee Calligraphy
1. Invitations and Stationery
We highly recommend choosing colors from our Vintage, Modern, or Designer Collections for your Wedding Invitations and Stationery, as they are made with our Traditional Wax Formula.
Containing our highest wax content, these colors will accentuate fine details and delicate fonts!
Quick Tip: Our Resealable Wax Seals are available in all 64 colors and are perfect for seating charts and escort cards!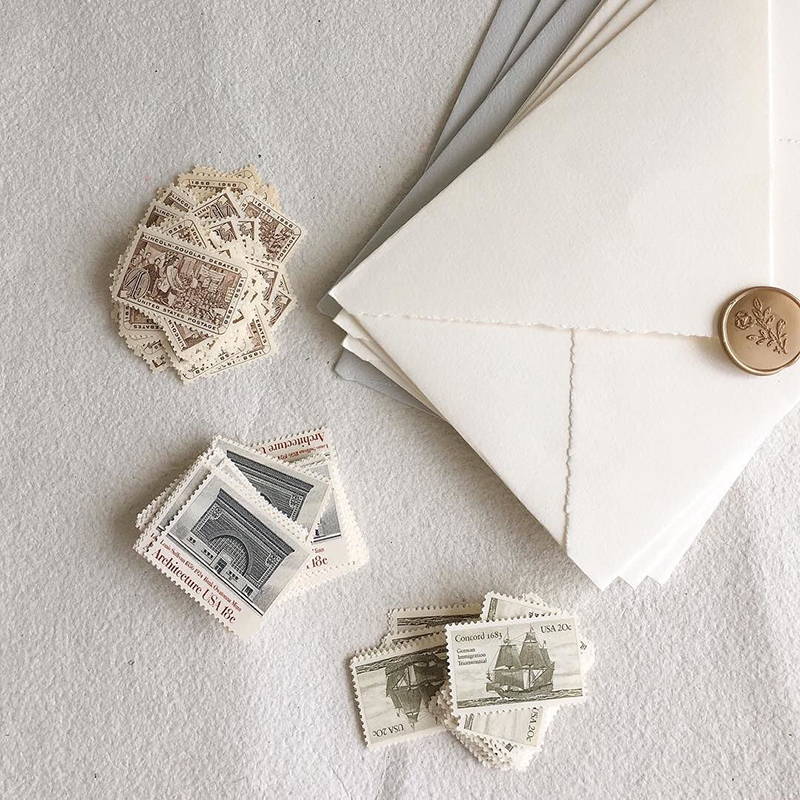 Photo and Design by Paula Lee Calligraphy
2. Mailing
We've crafted our sealing wax to make sure that it's mailing-friendly! Our sealing wax will not chip or break when traveling through the mail.
Please note: We recommend either requesting that your mail be hand-cancelled at the Post Office, or using an outer envelope to prevent tearing due to modern mail sorting machines.
Quick Tip: Make sure to select Professional Grade Wax Seals for any mailing application!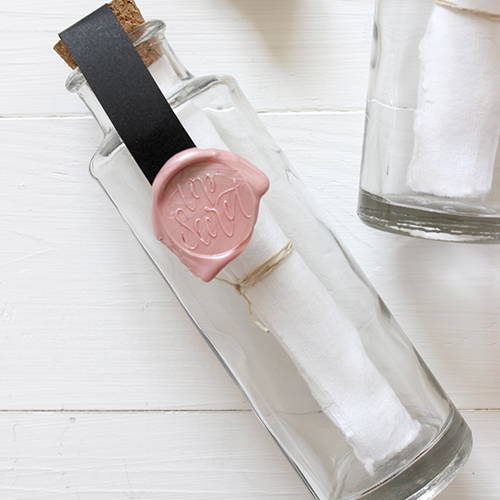 Photo by Saffron Avenue
3. Curved Surfaces
Ask us about creating a custom wax blend in one of our signature colors for application on a curved surface – we can create your favorite color in the perfect format for you!
Quick Tip: Make sure to select Professional Grade Wax Seals for curved surfaces and let us know when placing your order!
How to Create Your Own Signature Color
This week's discussion about color couldn't possibly be complete without talking about custom color!
As we said earlier, we're completely obsessed with all things color. If you're anything like us, you'll know how hard it is to decide on just one color – so you'll probably also share our love for this fabulous (yet totally evil) creation – Custom Color Sealing Wax!
With the help of our in-house Color Lab, we can work with you to create custom color sealing wax for use with your self adhesive wax seals, or in the form of glue gun sealing wax sticks. We have seen that our Wholesaler's who offer custom color to their clients see a huge return on these projects, as it is a completely unique offering and totally personalized on a per-project basis.
Here's how it works:
You pick your perfect shade + product (sealing wax or self adhesive seals).
Send us either:

A physical swatch or sample (recommended) or:
A coated PMS number

We will work with our Color Lab to create your custom color match (3-5 business days).
Have you heard about our Custom Branding Color?!
Once you reach the Gold Tier of our Wholesale Program, you will receive access to our highest level of discounts and member benefits. In celebration for reaching this exciting milestone, you will receive one custom branding or signature wax color session per year! Designed to help elevate your brand and continue differentiating your offering, our Color Lab will create one custom sealing wax shade for you each year – which can be used for Self Adhesive Wax Seals or Sealing Wax Sticks – and will be charged at the same cost as our stock colors - all year long!
Inspired by the colors of your brand – or simply your favorite color trend of the year, this color can be created in any shade you like! Branding colors are charged at your Gold Tier pricing, and the color development session is free! Email us at info@waxseals.com to order!
We hope that this week has been both fun and fact-filled to help you navigate the world of wax seals and color!
Next week we'll be talking all about self adhesive wax seals, which will very quickly become your studio's new best friend – so make sure you don't miss it!
We'll see you there!
                                                  xoxo,
                                                    The Wholesale Team
---