Designing Wax Seal Ready Artwork
Welcome to our Custom Artwork Guide, Friend!
We're so happy that you've joined us for the first module of our Wholesale Series, and can't wait to dive in to the beautiful world of wax seals!
In this module we're going to be chatting about the heart and soul of any wax seal – artwork!
But, first thing's first…
We want to wish you a warm welcome to our Wholesale Program! Now that you've joined our "inner circle", please think of us as an extension of your creative team. Our full service studio for all things wax and creative team are here to help you create beautiful products for your clients and support your brand.
Before we introduce our first module, we wanted to share a little bit about the philosophy behind our Wholesale Program – as it's such an important part of why we wanted to create this education series in the first place!
At the heart of our brand is a passion for supporting others to create through beautiful wax seals. We wanted to create a way for us to work more closely together, while also providing additional support for the growth of your brand – which is how our Wholesale Program was born!
This year we wanted to create an education series that would help you build a strong foundation for designing wax seals for your clients. Our goal is to provide you with all the tips and tricks in one central place – that you can come back to and use time and time again as needed! Whether you've been working with wax seals for years or this is your first time, we are here to support your brand by providing the best quality of products and services possible – because you and your clients deserve the best.
Before we get started, we just have one favor to ask you…
Please challenge us!
As a member of our Wholesale Program, we ask that you keep the lines of communication open by challenging us, questioning our methods, and engaging us in conversation! Our goal is to continue developing new products and services that you and your clients would find most helpful, but in order to do that – we need your input!
So please continue to share your ideas, challenges, questions, victories, and experiences with us so that we can continue creating new products, new modules, and new services that will continue to grow and support your brand!
The short version?
We are here to create products that will elevate your brand, and want to work with you to decide what those are!
Top Tips for Designing a Custom Wax Seal
Ok guys, it's time to dive in!
One of the most important elements of any wax seal, is the artwork!
Today we're going to be talking about three things:
Format: How to prepare your wax-seal ready design.
Designing for Detail: How much is too much?
The Process: Proofing, turnaround, and approval.
1. How To Format Your Wax Seal Artwork
High resolution (300 dpi).
Black and White Vector Image.
.PDF or .eps formats are preferred, but high quality .ai, .jpeg, and .gif files are also accepted.
No shading/3D effects.
Black areas will be raised when pressed into the wax.
Looking for specific placement of your design on your engraved die!? Please send your artwork with a die line!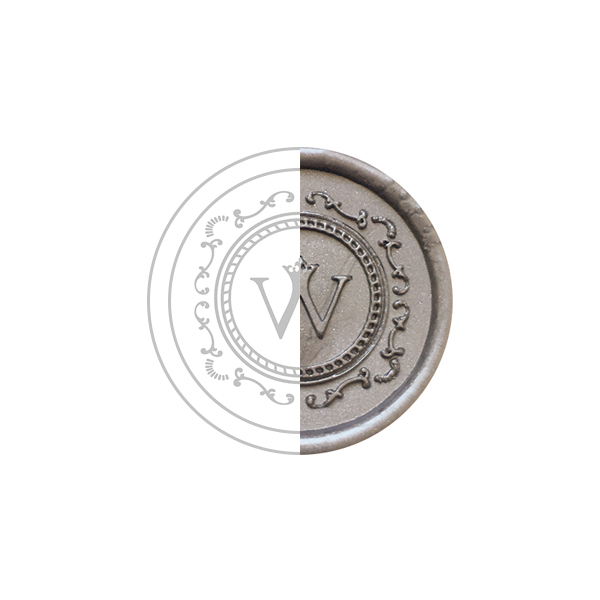 ---
2. How to Design for Detail
When it comes to wax seal artwork, capturing fine details is one of the most important things our clients ask about. How much detail is too much? Is that even a thing?!
The number one rule of thumb when it comes to detail, is the quality of the image itself. The higher resolution we have and the more layers we have to work with – the better your artwork will engrave!
Working with delicate artwork?
Here are some quick tips:
Lineweight: We recommend working with a minimum lineweight of 0.65mm. Thicker lines will stand out more once pressed in wax, so if you're working with a dainty font or delicate detail – we recommend adding a 0.5 pt. line to your design, as we did in the following examples!
Aim for 50% coverage of the die when designing your wax seal to avoid air bubbles and blemishing.

Working on a big seal larger than 1.75″?! Aim for at least 60-75% coverage!
Working with less than 50%? Try adding a background – just please send it to us in a separate layer!

Size of seal can play a big roll in the amount of detail you can capture in your wax seal. Working with exceptionally fine artwork and want a double check – just email us your image and our Engraving Team will send you their recommendations!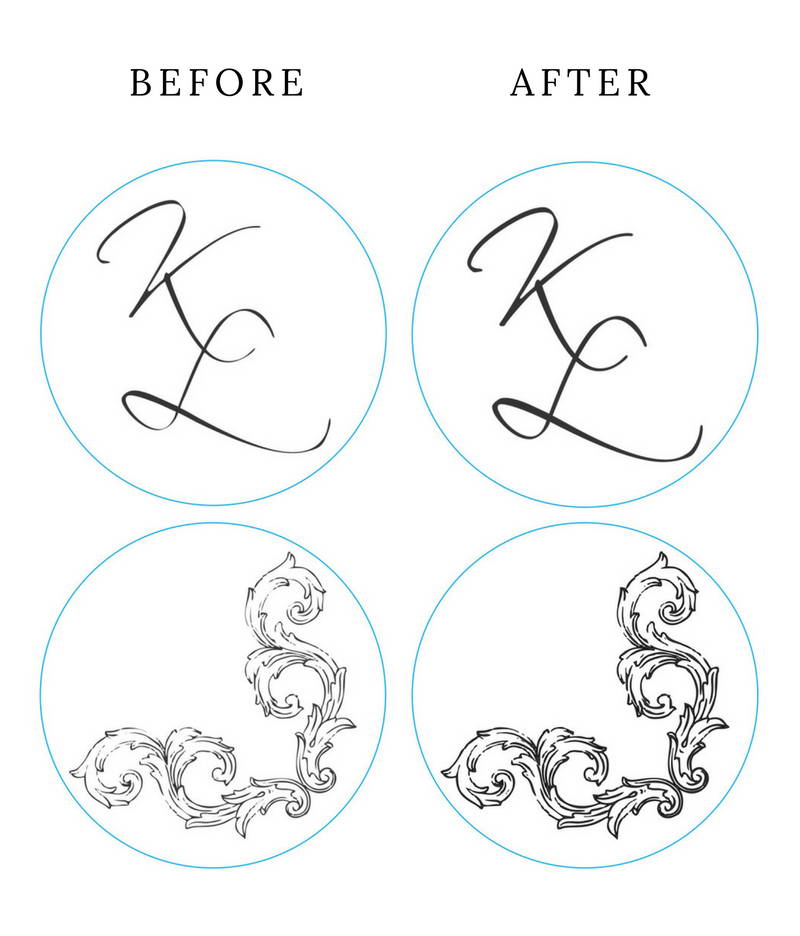 Proofs, Approval & Final Steps
Ok…so you've just finished designing your masterpiece and you're ready to send it across the interwebs to us – yay!
But then what?
Proof Time!
To make sure your custom wax seals are just right – we do not begin production on anything custom until we create an electronic proof using your image to show proportion and placement! Here's how it works:
Submit Your Order
Our Master Engravers will create an Electronic Proof for you within 1 business day – which they will send via email.
Approve Your Electronic Proof (and select the option you would like if necessary).
Receive Order Confirmation via email with production times and estimated shipping dates.
Production (1-3 business days for standard orders).
Shipping (time based on destination and chosen shipping speed).
In A Rush?!
If you (or your client) are in a big time crunch – the best way to expedite the proofing process, is to make sure your artwork meets all the criteria above. To make the proofing process even faster, add a die line to your artwork with your desired placement and proportions – and this will save more time in getting your proof as soon as possible!
When it comes to creating artwork, we really do believe that there is no such thing as too intricate – that's where we come in! Problem solvers at heart, we love a challenge and are here to work with you to optimize and adapt your unique style to maximize wax seal clarity and overall impact! Have questions or a "crazy idea" (there is no such thing…by the way) – let's work on it together!
We look forward to seeing you here next week!
xoxo,
    The Wholesale Team
---